HEALTH
Noise punk group HEALTH sure have come a long way since we first wrote about them during their start, and it's great to still see them at their idiosyncratic best. Their latest video off of last year's Death Magic, "L.A. Looks", is a stylistically retro take on public access television that equally exposes and pokes fun at the weirder side of Los Angeles. Consider it as an apt travel guide for for those who've yet to visit our lovely city. Proceed with caution.
Art gallery by day and music venue by night, Pehrspace was known in the southland as one of the better DIY spaces that exhibited local underground indie music. With the rare admission of all-ages for most shows and affordable admission fees, Pehrspace was regionally known as a small, accessible place to enjoy good music with good people. Notable acts include Vice Cooler, HEALTH, No Age, Dan Deacon and Moses Campbell, as well as the highly praised Sean Carnage who regularly DJ'd and hosted Monday nights. Unfortunately, after a 10-year lease in Westlake since their opening in 2006, Pehrspace was handed a 60-day notice to close by a new landlord.
Pehrspace is currently crowdfunding to find a new space with via GoFundMe. - Kaitlyn Tang
This year's slew of local talent at FYF wasn't as unpredictable as other years, seeing as the festival booked many familiar faces who happened to be promoting either recent or new releases. Though it left something to be desired, bringing back proven talent does provide a sense of camaraderie and loyalty to an event that is increasingly advancing into the upper echelons of Summer music festivals.
Take a look at some of our highlights from this year's festival, some of which we're sure will make future appearances if you're kicking yourself for having missed them this time around.
Day 1: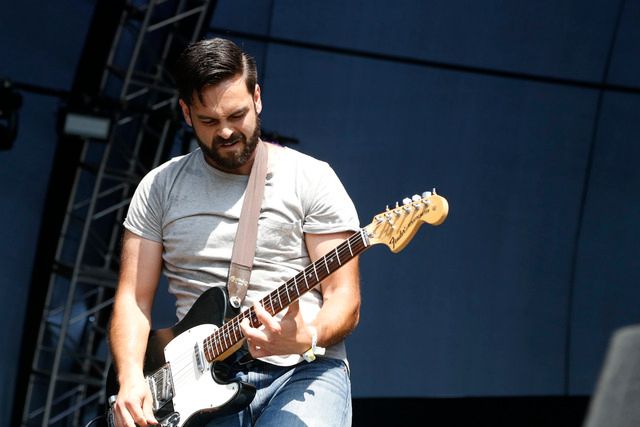 The Los Angeles band JUNK opened the festival, christening the Trees Stage with a whirlwind of garage indie rock from their recently released single "Like A Cop", the first pressing of FYF's side-venture FYF Records. Despite slaying the night before at Non Plus Ultra with Broncho and Shitgiver, Evan Weiss & co. had lots of energy to burn even though their set was less than 30 minutes. - Words: Ryan Mo // Photo Credit: Carl Pocket for FYF Fest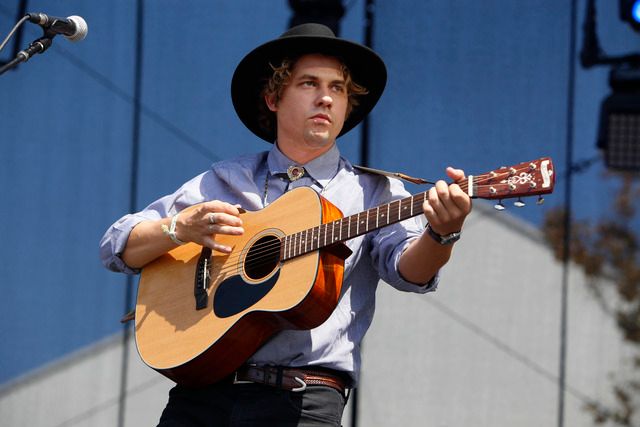 On the other side of the festival grounds, classic singer-songwriter Kevin Morby also opened the festival at the Lawn Stage with a serene, methodical set that exhibits his zest for soothing, reflective folk melodies. His words were few but his presence was felt, bringing a cool vibe to a sizable amount of attendees who were ready to absorb some pleasant, sun-drenched melodies. - Words: Juan Rodríguez // Photo Credit: Chris Carrasquillo for FYF Fest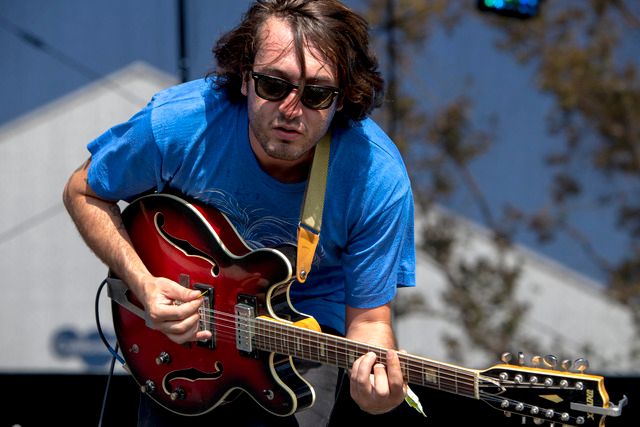 Mikal Cronin took the Lawn Stage with opener "Turn Around" from his newest drop MCIII, a blend of scorching fuzz chords and 1960's pop hooks for sweating fans. Cronin's start-stop "Apathy" and MCII's "Weight" hearkened back to his debut performance at 2013's FYF, right before the festival changed from the Historic Park venue to Exposition Park. - Words: Ryan Mo // Photo Credit: Carl Pocket for FYF Fest


South Bay's Joyce Manor has become a staple for FYF, taking a slot every year since 2012, and no one is complaining. Performing at the Main Stage just before Dinosaur Jr., the pop punkers drew from their entire discography, from first album hits like "Leather Jacket" to songs from 2014's release Never Hungover Again like "Christmas Card". To top it off, Joyce Manor closed out with a cover of Weezer's "You Gave Your Love to me Softly". - Words: Ryan Mo // Photo Credit: Todd Seelie for FYF Fest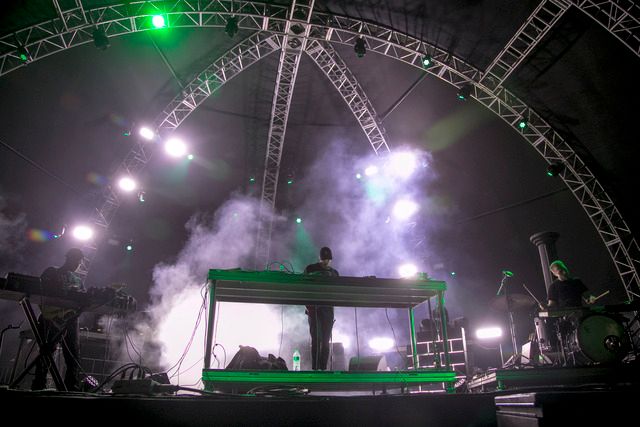 Slated for a late-evening set, avant grade producer Shlohmo bought back his searing, beatmaking talents to an audience that was yearning for a refresher after Goldroom's sprightly set. Utilizing a full band, he managed to surprise the crowd with abstruse, though rhythmic dynamics that can stimulate both body and soul. A veteran to the festival, it was a revelation to see him come into his own as such a confident performer, one whose dark electronic passages always emit a chink of hopeful light. - Words: Juan Rodríguez // Photo Credit: Chris Carrasquillo for FYF Fest

Day 2: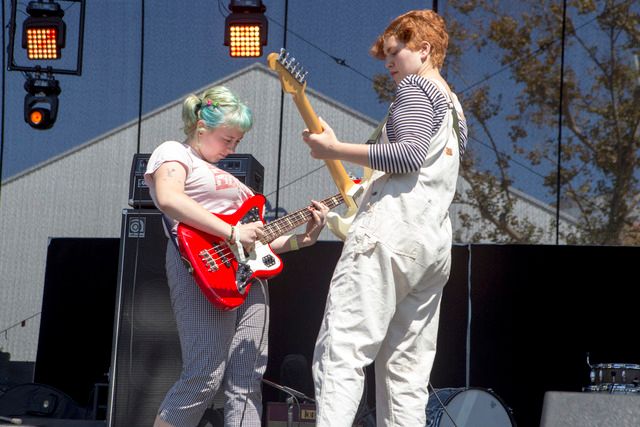 If you weren't keeling over from dehydration and exhaustion, you probably received an early greeting from Girlpool at the Lawn Stage. Fans matted the grass as the LA-to-Philly duo lulled onlookers with hits from their album Before the World Was Big. - Words: Ryan Mo // Photo Credit: Carl Pocket for FYF Fest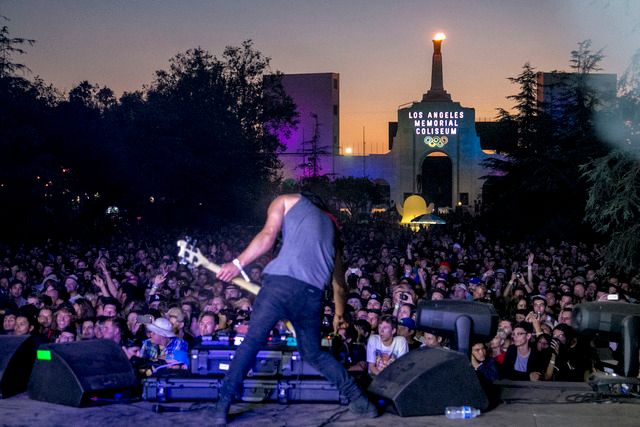 After a set cut short from New Yorks' experimental trio Battles, HEALTH took The Trees by force with"STONEFIST", the second-track banger of their newest album Death Magic. Jupiter Keyes pummeled the bass as the crowds violently convulsed, moshing and headbanging to the "DIE SLOW" and "GOTH STAR". Their set was unfortunately cut short after the slow-moving "LIFE", prompting HEALTH to finish with the half-minute dissonant freakout "GIRL ATTORNEY". - Words: Ryan Mo // Photo Credit: Chris Carrasquillo for FYF Fest