The Wilders
High Moon Order
slips on like an old flannel shirt or a broken in pair of jeans. If comfort food were thirteen tracks of down-home musical cooking, it would sound a lot like this. The introduction to Betse Ellis's solo album is "The Traveler." I was surprised by the lush pop writing elements. It is a warm handshake with earthy acoustic instruments. This is a departure from the feel of Ellis's band The Wilders. There are also some obscure fiddle songs that round out the album.
"The Golden Road" delivers what I expect from Ellis: a solid mix of bluegrass, folk, and country elements. The lap steel playing is űber tasty. Next is "Long Time To Get There." Bluegrass enthusiasts will genuinely love this track. Her playing is exquisite. Fans will rejoice that there are five instrumentals in total. "Dry and Dusty" is a front porch bottled up in a little digital cocktail. The musicianship on this track is outstanding. It's simplicity in arrangement and construction will pull the listener in for two minutes and fifty-one seconds of daydream immersion.
"Straight To Hell" is a cover of a Clash song and easily won as my favorite song. The vocals are mesmerizing. The drums sound reminiscent to something you would hear from Florence and the Machine. The chorus left me singing for hours after my first listen. I enjoyed the bigger production and effects. After the third instrumental "Elk River Blues" and its fantastic melody line comes "Twilight is Stealing." A more traditional song, the voices of Ellis and Roy Andrade (who also plays banjo on the album) meld magically together. Traditionalists of American bluegrass and roots music will appreciate Ellis's attention to detail in song delivery.
The eighth track is "The Complainer." Versatility, delivered. This track reminded me of a mesh of Public Image Ltd (PiL), The Clash and about 40 tons of Hillbilly Riot. Even though I love the tradition songs, this ended up being my second favorite. Any rock band would love to have it in its portfolio. The record settles in with "When Sorrow Encompass Me 'Round" and "The Collector," both being solid additions. The last two instrumentals "Stamper" and "Queen of the Earth and Child of the Skies" are a continuation of the stellar performance standard. At this point, I should acknowledge the engineering, mixing and mastering work on the album. There is great consistency across the recordings. Overall, the album art and production are splendid.
Lastly, there is a big embracing hug to say, "…so long friend until next time" in the song "Question to Lay Your Burden Down." Here again, are the pop kisses added to cement the fact that you will anxiously awaiting this founding member of The Wilders next solo effort. High Moon Order is a fantastic choice for your summer 2013 music additions.
Editor's Note:
High Moon Order is being released on Free Dirt Records and was produced and engineered by Mike West. The accompanying musicians on the album were Roy Andrade (banjo, guitar, vox), Jason Beers (bass), J.J. "Yukon Jimijon" Hanson (upright bass), Mike Horan (guitar), Jonathan Kraft (drums), Josh Mobley (keys), Mark Smeltzer (vox), Michael Stover (electric/acoustic/steel guitar), Mike West (percussion, vox), and Phil Wade (vox).
Tonight's the night! Ellis and friends will celebrate the release of
High Moon Order at The Brick. Music starts at 9:00 with an acoustic set, featuring Ellis playing solo, with combinations of others, and with a special string segment. Adam Lee and the Dead Horse Sound Company will play around 10:15. The full band from High Moon Order will perform around 11:30 with other special guests. Local artist Héctor Casanova will be doing live art in response to the performances. Facebook event page.
William is a local record producer, singer/songwriter, and guitarist/singer for The Walltalkers. He is also the head monkey at Saunders Street Records and still likes movies with giant robots.
(Editor's Note: We apologize for the extreme lack of timeliness on posting this recap.)
The Wilders played an exhilirating and emotional farewell show on June 30 at Knuckleheads. The nearly sold-out show lasted for over 3 hours, with the band playing choices from its successful 15-year run. The first set began with the band centered around a single microphone, characteristic of its early days, and by the end of the evening, a full band whose power suddenly became fully realized commanded the stage. Whether The Wilders were playing old country standards or its sophisticated original alt-country tunes, the crowd remained on its feet throughout.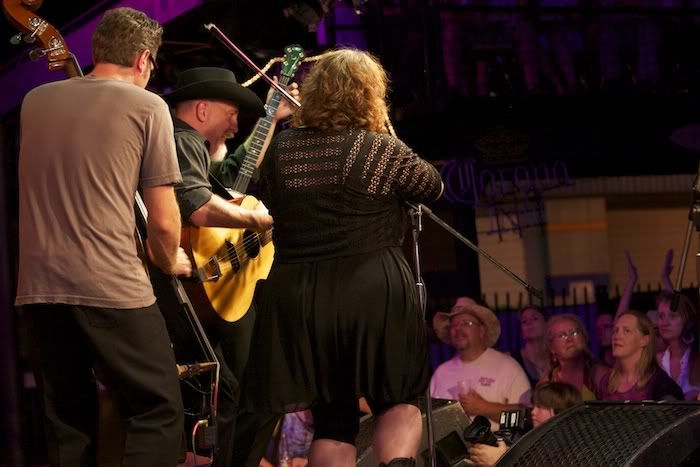 During those 3 hours, The Wilders showed why they are as critical to the Kansas City music scene as they have been for over a decade, and why they've been the darlings of music festivals and tours around the globe. As the wind picked up and rain began to trickle, the group played more ferociously and sang more passionately, culminating in a warm, yet bittersweet celebration of a legendary group.
We want to thank The Wilders for being such an important part of Kansas City and its music scene. To Nate, Phil, Betse, and Ike: Salud!
--Michelle Bacon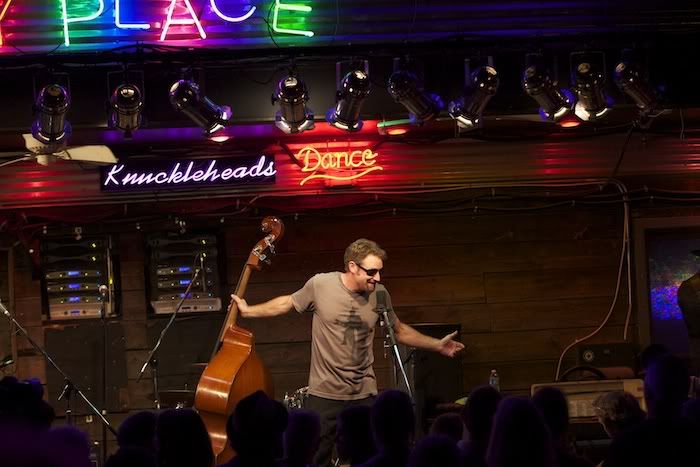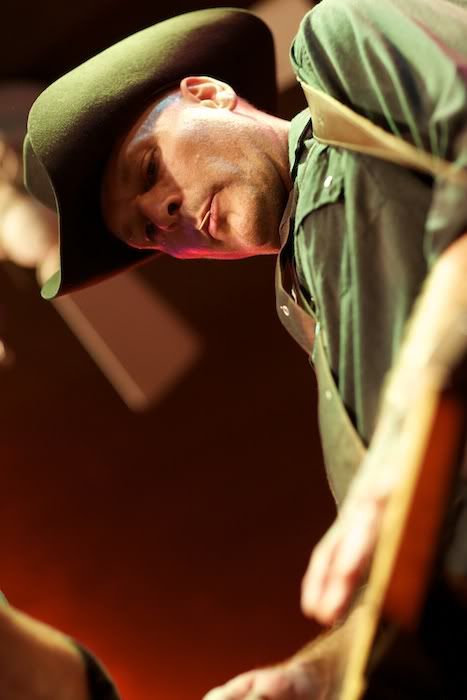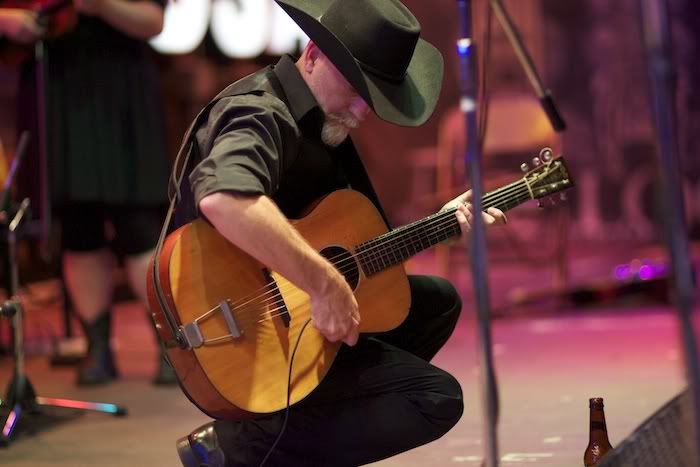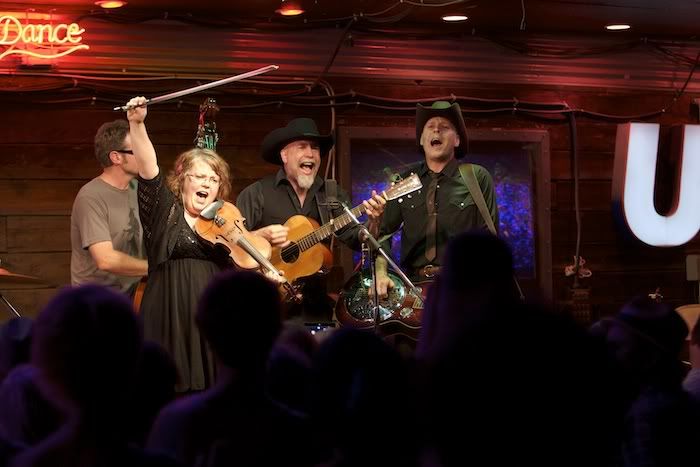 Photos © Todd Zimmer, 2012. Please do not use without permission.
The Wilders are one of the most successful bands to emerge from Kansas City in the past decade. The 4-piece string band has been around for over 15 years (13 years with the same lineup), has churned out 10 quality albums, and has had a successful run around the continent and in Europe. With such an impressive resumé and a huge catalog of music, there was no question that this would be our show of the week.
After 15 years of constant touring and playing, the group has decided to take a well-deserved hiatus. The show at Knuckleheads on Saturday will give fans a chance to hear The Wilders' entire catalog, ranging from their beginnings of playing old country and folk standards to original alt-country Americana songs of the past few years. Though they have never been a cover band, they've been careful to pay homage to their influences throughout the years and use them to create their own material. Their latest album (2011, The Wilders) was the first that contained all original songs, and was well received by fans and critics alike, winning an Independent Music Award for best alt-country album.
Though Saturday's show is being billed as a "farewell show" of sorts, fiddler Betse Ellis was quick to explain that the band was not breaking up.
"We love each other too much to break up," said Ellis. "We're not ready to call it quits but we don't know when we'll play next."
Either way, this is a rare chance to see The Wilders perform in their hometown. The group's exuberant live show is not to be missed, containing an energy that many bands simply cannot achieve. Frontman and guitarist Ike Sheldon is an otherworldly force on stage, with riffs and a voice that could destroy almost any heavy rocker. "He can go from biting your head off to stabbing you in the gut quietly within 30 seconds of the same song," explained Ellis.
In the same turn, Ellis's fierce fiddle work ensnares audiences. Bass player Nate Gawron lays down a solid foundation for the controlled chaos the band is known to create. Phil Wade rounds out the 4-piece as the multi-instrumentalist, often switching from mandolin to banjo to any number of stringed instruments. And all of this is done without a drummer, yet The Wilders' music has a propulsion that often rivals that of a marching band.
The show begins at 9:00 p.m. The Wilders will play for the entire evening, providing a retrospective of their successful and diverse career. Tickets are $15 and available here.
--Michelle Bacon